Planning row killer Albert Dryden freed after stroke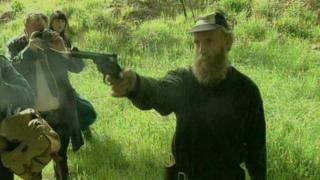 A man who shot dead a planning officer in view of TV cameras to protect an illegally built bungalow has been released from jail after a stroke.
Albert Dryden, now 76, gunned down Derwentside Council planning officer Harry Collinson, in Butsfield, County Durham, in June 1991.
He was also convicted of the attempted murder of a solicitor and wounding a police officer and a BBC journalist.
Dryden was given a life sentence but has been freed after 26 years.
Alex Watson, a Durham County Council councillor and district council leader at the time, said it was because of the killer's ill health.
'Cold-blooded'
"He's been released as he has had a severe stroke and it's left him unable to talk," he said.
"He's not in a good condition, but he's recovered enough to be released and placed in a residential home where there will be a measure of security.
"It was a tragic situation, no doubt about it. He said he was defending his home, but the murder can never be excused. It was cold-blooded murder."
Dryden opened fire on Mr Collinson and solicitor Michael Dunstan as they led a council operation to demolish the bungalow he had built on his country lane smallholding.
After Mr Collinson, a 46-year-old divorced father of two, fell wounded into a ditch, Dryden hit him with two further shots.
Footage showed journalists and council workers fleeing.
During the trial at Newcastle Crown Court in April 1992, the former steelworker claimed he was mentally unwell and not responsible for his actions - a claim rejected by the jury.
The Parole Board said in a statement: "We can confirm that the Parole Board has considered the case of Mr Dryden, and whilst we did not direct release we did recommend that the Secretary of State consider releasing him on compassionate grounds.
"As such, the final decision to release rests with the Ministry of Justice."
A Ministry of Justice spokeswoman said she was unable to comment on individual cases.