Sons trace lost soldier father's World War Two grave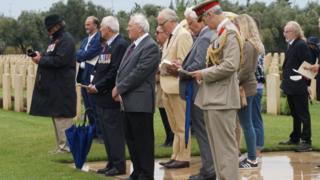 Twin brothers who were robbed of the chance to meet their father when he was killed in World War Two have finally been able to lay him to rest.
Edward and Sydney Graham were born just 22 days before their father, also called Edward, was killed in an ambush in Sicily aged 31.
The Royal Irish Fusilier, from Chopwell, Tyne and Wear, died unaware his wife had given birth.
After years of research his sons traced his grave to Catania War Cemetery.
The pair were among those present at a special service in Italy to watch a new headstone being installed.
Fate unknown
Their father, who was killed on 13 August 1943, was first buried at the roadside.
His body was moved and placed in an unnamed grave.
Both of his sons spent years attempting to track down his final resting place, which the younger Edward attributed to "sheer stubbornness".
He said: "I knew it had to be somewhere, so just kept going, kept researching records, battling with bureaucracy, and thanks to the kindness of some very good friends, and some very hard work we managed to find it.
"But my great sadness is my mother never knew where he was - he was posted missing but his actual fate she didn't know for definite for almost two years.
"He was on active service, and communication being what it was he didn't know he was the father of twin boys, my brother and I were born just 22 days before he was killed.
"It's very sad ... but that was the time he was living in."
Sydney Graham said: "It has given me a sense of connection that I didn't have before.
"Having seen the terrain through which he and his comrades had to battle, I shall leave with an appreciation of what they had to face during those harsh days."