Northumberland County Council 'failed to protect family'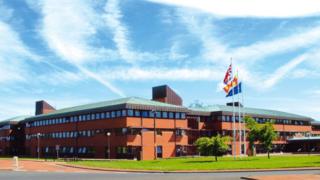 A family terrified by their teenage son were not adequately protected by their local council, a watchdog has ruled.
They called for help from Northumberland County Council on several occasions, saying the boy had held a knife to his mother's neck and threatened to stab his siblings.
But the authority "downplayed" the allegations, the Local Government & Social Care Ombudsman said.
The council said it had "reviewed its policies and procedures".
Ombudsman Michael King said the council "continually attempted to minimise the seriousness of the allegations made against the older son" and "little thought" was given to the potential harm the rest of the family faced.
The boy was eventually removed from the family home by police.
Children's welfare
The ombudsman said, following its intervention, an independent investigator appointed by the council upheld a number of the family's complaints - but the process took more than a year even though the law said it should take 65 days.
Northumberland County Council has been told it should pay the family £1,000 for their efforts pursuing the complaint, as well as for the distress caused by the authority's failure to investigate the children's welfare.
In a statement, the authority said: "This incident originated in 2013. Since that time, the local authority has reviewed all its policies and procedures and is confident new arrangements are robust and fit for purpose.
"However, the council takes reports such as these very seriously.
"We do note the ombudsman's recommendations and are currently reviewing the report so any further action we need to take can be put in place as soon as possible."