Lifeboat returns to Tyneside home after almost 50 years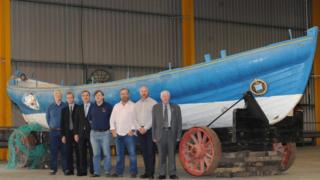 A lifeboat has returned to its Tyneside home after a gap of almost 50 years.
The Bedford, built in 1886, left South Shields for the Exeter Maritime Museum in Devon in 1968 and was later moved to the Eyemouth Maritime Centre.
When it closed, the boat was auctioned along with the museum's other contents.
The North East Maritime Trust, with the help of local businesses, put in a bid and the vessel is now in storage in the town while a permanent home is sought.
Councillor Alan Kerr, deputy leader of South Tyneside Council, said: "The borough has such a long and proud shipbuilding and seafaring heritage [and is] home to the world's first purpose built lifeboat.
"Given the town's significant role in the early development of sea rescue, it is wonderful that local organisations have come together to help safeguard the Bedford's immediate future and prevent her from being lost forever."