Arrests over disorder ahead of Sunderland v Celtic match rise to 31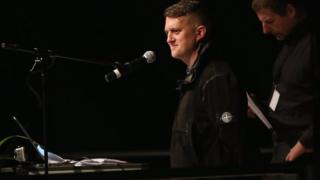 More than 30 people have now been arrested in connection with violence before a pre-season football match between Sunderland and Celtic.
Police were called in after trouble flared at a book signing in Sunderland by the English Defence League founder Tommy Robinson on 29 July.
Initially 24 people were arrested, but Northumbria Police said that figure had now risen to 31.
An 18-year-old man suffered a head injury during the disturbance.
A force spokesman said further arrests were likely.
Flare thrown
At the time officers said the majority of arrests were unrelated to Mr Robinson's book signing and included people being drunk and disorderly, committing a breach of the peace and using illegal pyrotechnics.
Mr Robinson was wearing a Glasgow Rangers shirt - the arch rivals of Celtic.
Footage posted on social media showed a flare and other objects being thrown towards a shop where the signing was taking place before fighting broke out on the street.
The spokesman added: "Most of the fans who came along were, as we expected they would be, good-natured.
"It was very disappointing to see a small handful tarnish the city with their disruptive and violent behaviour.
"Since the disorder we have been working relentlessly to identify those involved which has resulted in further arrests."