Hexham and Wansbeck urgent care units to reopen at night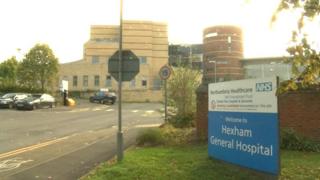 Two emergency care units in Northumberland that were closed to overnight patients nine months ago are to return to 24-hour opening.
The centres at Hexham and Wansbeck hospitals were shut between midnight and 08:00 in December so staff could focus on busier daytime care.
Northumbria Healthcare NHS Trust said it was now right to reopen the units ahead of a predicted difficult winter.
The trust said the units were due to reopen at the end of October.
In December health bosses said the units had to close to keep "precious staffing resources" focused on daytime patients.
Since then overnight emergencies have been diverted to the Northumbria Hospital in Cramlington to deal with a "very high demand" in daytime admissions.
Dr Jeremy Rushmer, executive medical director at the trust, said: "It is vital that The Northumbria hospital in Cramlington is kept free for serious emergencies only...
"We have worked hard to re-open our urgent care centres overnight for conditions which are not life-threatening, but need an urgent response."
Hexham Conservative MP Guy Opperman said: "We have campaigned for this for nine months. The problem in the past has been these temporary closures have become permanent."
A third centre in North Tyneside that was also closed overnight is to remain shut pending an ongoing review into a new 24-hour facility planned for Rake Lane Hospital in North Shields.