Newcastle Civic Centre refurbishment 'strongly' opposed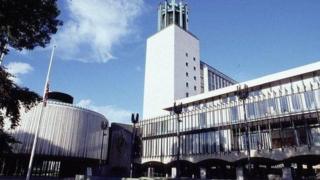 The refurbishment of Newcastle Civic Centre is being opposed "in the strongest possible terms" by conservationists.
Newcastle City Council wants to make changes to the Grade II*-listed centre so it can sublet it to other agencies, including civil and family courts.
The Twentieth Century Society said the proposed alterations would cause "substantial harm" to the building.
Architects Faulkner Browns said the plans "preserve" the centre's heritage.
The plans have been submitted to the council's planning department with a decision expected to be made by November.
The civic centre was inspired by Scandinavian design and opened in 1968 by King Olav V of Norway.
Proposed changes include glazing the entrance colonnade to create "meeting pods" and a cafe.
Clare Price from the Twentieth Century Society said: "This is not just a convenient space to be in-filled, it forms an intrinsic part of the original design of the ceremonial approach to the Civic Centre."
A spokesman for Faulkner Browns, which has designed the changes, said the plans were drawn up "in response to the council's aspiration to protect, preserve and enhance their unique heritage asset, extending its use as a civic facility and improving its environmental performance".
He said the Twentieth Century Society had been invited to meet the designers to discuss its concerns.
The council said that as the planning authority it would be unable to comment on the application.