Rothbury hospital to lose in-patient ward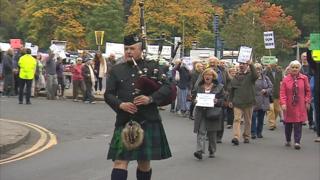 Health bosses have approved plans to axe in-patient beds at a cottage hospital in Northumberland.
Campaigners said the decision to shut the 12-bed ward at Rothbury Community Hospital was "unfair and unjust".
But Northumberland Clinical Commissioning Group (CCG) said the beds had been used "less and less" over the past few years.
Managers voted unanimously in favour of the closure at a meeting in Morpeth, despite a large protest outside.
The ward was closed last September while a review and consultation were undertaken.
The CCG said it now planned to "reshape" existing services around a health and wellbeing centre on the hospital site, which would save about £500,000 a year. No job cuts are proposed.
Campaigners said frail patients and families now faced round-trip journeys of up to 60 miles to other hospitals in Alnwick, Wansbeck and Cramlington.
A spokeswoman for the Save Rothbury Cottage Hospital Campaign said: "It is unfair and unjust to expect these people to travel so many miles. Some loved ones would find it impossible to visit patients in these hospitals.
"We have terrible road conditions in the winter. Ours is a very rural community and we have people living out in tiny little hamlets.
"We had 5,000 names on a petition to keep the beds open. These people have gone against the wishes of the community and are arrogant and cruel."
The issue is to be considered by Northumberland County Council next month.