North Shields memorial unveiled to fishermen lost at sea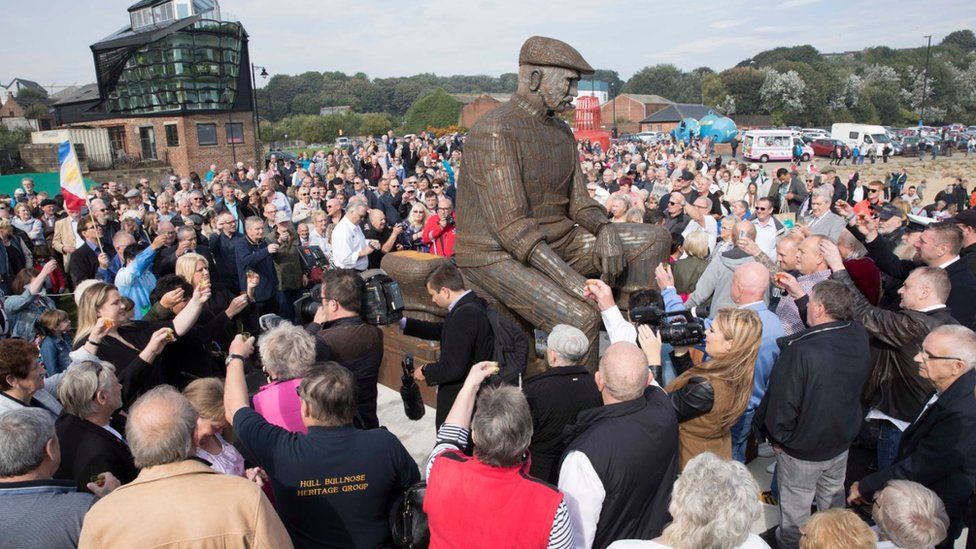 A memorial has been unveiled to fishermen from Tyneside who have lost their lives at sea.
The £75,000 sculpture was created by former Durham steelworker Ray Lonsdale, whose works have featured North East working and military life.
Hundreds of people gathered for the event on North Shields Fish Quay.
The 10ft 6ins (3.2m) sculpture, called Fiddler's Green, was unveiled by Julie Myhill, whose fisherman partner James Noble died at sea.
The memorial was the idea of former fisherman Henry Howard, whose granddaughter had asked him why none existed already.
Mr Howard, who is vice chairman of the North Shields Fishermen's Heritage Project, said: "It's been a really proud day for me to finally see the memorial.
"I am prouder still to have been able to make my granddaughter's wish come true. She will now see a memorial to the fishermen who never came home."
The organisation spearheaded a fundraising campaign which was supported by the local council and businesses.
Ms Myhill added: "There are memorials all over the country but there's been nothing in North Shields until now. James has a plaque on the fish quay, but I am over the moon that there is now somewhere for me to come to at the seafront to think of James."
Ray Lonsdale said his sculpture had been inspired by a photograph he had seen of a fisherman taken in 1959.
He said: "Fiddler's Green is one of the larger pieces I've done and it's been interesting for me tackling a different area like the fishing industry. I've really enjoyed doing it."
Related Internet Links
The BBC is not responsible for the content of external sites.