Hospital's monitoring of 'at-risk' children improves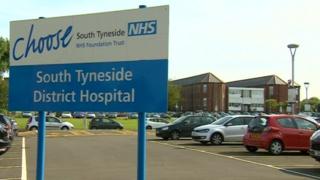 A hospital that failed to properly record data on vulnerable children has improved, the health watchdog says.
South Tyneside District Hospital was criticised by the Care Quality Commission (CQC) over monitoring of youngsters seeking emergency treatment, who were at risk of domestic abuse or self-harm.
A follow-up inspection found it had developed a "robust action plan".
The health trust said it would continue to make further improvements.
The CQC inspected the hospital in July 2016, and issued a warning notice to South Tyneside NHS Foundation Trust.
The trust was criticised because its safeguarding-children processes, procedures and practices "did not support the identification and protection of children who may be at risk".
Action plan
A year later it carried out a focused follow-up inspection to review the action taken.
The team had been strengthened by the appointment of a dedicated named nurse safeguarding children for acute services, a safeguarding children advisor, and an independent domestic abuse advisor, inspectors said.
There was also a robust action plan, which was frequently reviewed, with significant senior management oversight of the whole process.
Ken Bremner, chief executive of the trust, said: "This is a very positive step forward in our improvement journey to ensure our safeguarding arrangements are now up to high standards that we would all expect.
"Whilst today's CQC report is good news, we are absolutely focussed on continuing to ensure that our new safeguarding systems are fully embedded and that we create a positive culture which always looks after those who are most vulnerable and at risk."