'Versatile' Tyne Theatre celebrates 150th birthday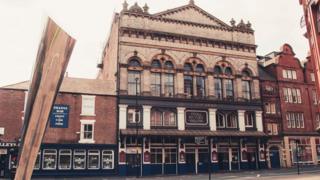 A theatre that survived closures, financial woes, a fire, and even a stint as a cinema showing X-rated films has celebrated its 150th birthday.
Newcastle's Tyne Theatre and Opera House is one of only two known examples in Britain to retain a complete set of operational Victorian stage machinery.
The Grade I listed building has been extensively refurbished.
It hosts variety performances, comedy, ballet, and live acts that have ranged from Placido Domingo to Coldplay.
The theatre, funded by politician and industrialist Joseph Cowen, was originally designed to house a stock theatre company, staging locally-produced drama, opera, musical spectacles and pantomimes.
However, by 1881 it was unable to compete with star touring companies taking advantage of improvements in rail travel.
There were a succession of theatre managers, before it was driven out of business in 1917 and converted to a cinema - the first in Newcastle to show a "talkie".
Then known as the Stoll Picture Theatre, it thrived for decades but fell victim to a decline in cinema-going in the 1960s.
It attempted to counter this by cornering a select market showing 'X' rated films, but closed in 1974 after a bill of "Danish Bed and Board".
A "Save the Stoll" campaign was launched, a preservation order placed on the building, and an independent registered charity set up with the aim to restoring it to its former glory.
The theatre reopened in 1983, and one of the highlights of that year was a performance by Placido Domingo.
On 25 December 1985 a fire damaged the backstage area, but rebuilding work began almost immediately, and the theatre was back in business less than a year later.
However, for the next two decades it was plagued by financial troubles, with management changing hands a number of times, and it was placed in administration in 1995.
In 2008 the theatre was purchased by Newcastle City Council which transferred the freehold ownership to the Tyne Theatre and Opera House Preservation Trust.
Heather Ging, from the trust, said: "What we've got to do now is raise the money ... to keep it the way it was intended - as a theatre for the people, a glorious palace of leisure and recreation".