Roker Pier tunnel entrance lowered into place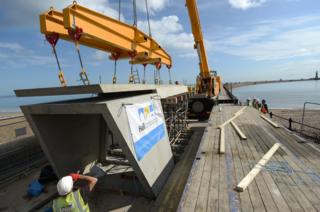 The roof of a Grade II-listed pier's new tunnel entrance has been lifted into place on Wearside.
Once completed, the work will allow public access to the tunnel and lighthouse at Sunderland's Roker Pier for the first time.
The tunnel originally housed gas pipes running the length of the pier.
It was later used by the lighthouse keeper for access in bad weather and to rescue anglers trapped on the pier during storms.
The pier itself has been closed since November when strong winds and rain swept away railings and the coping stones they were fixed to.
Repairs got under way three weeks ago are due to be completed by the end of the year.
Councillor Mel Spedding of Sunderland City Council said: "We were due to launch the first tour of the lighthouse the very day we discovered the railings had been washed into the sea so November's storm damage was a real setback to our plans.
"There's been an enormous amount of enthusiasm around plans to open the tunnel and lighthouse so even though there's still a lot of work to be done it's exciting to be getting closer to when we can make that happen."
Restoration of the pier, which was built between 1885 and 1893, is costing £2.5m and is being funded by the city council and the Heritage Lottery Fund.