'WW2 bomber's remains' found in North Sea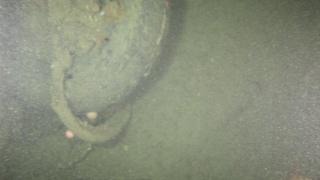 Wreckage believed to be from a World War Two bomber has been discovered in the North Sea by engineers working on a subsea electricity project.
Thought to be an RAF Short Stirling heavy bomber, it was found by specialists scanning the sea bed with sonar equipment.
They were conducting surveys along the proposed route of a UK-Norway cable link.
Short Stirlings were used to transport supplies to the Norwegian resistance.
An aviation expert enlisted by the Norwegian Institute for Cultural Heritage Research believes the wreck to be one of several Short Stirlings which disappeared without trace on missions to Norway over the winter of 1944-45.
'Surprise'
Nigel Williams, North Sea Link project director for National Grid, said: "We use advanced sonar equipment to scan the sea-bed at depths that range between 100 and 600 metres (330-1,970ft).
"Any objects or structures detected are marked as target points.
"If we feel they need closer inspection we can send down a remotely operated underwater vehicle or a 'drop cam' so it can tell us more about what we are looking at.
"When images of what appeared to an aircraft wheel came through, you can imagine our surprise."
'War grave'
Sue Raftree, of the of the Joint Casualty and Compassionate Centre (JCCC) within the UK's Ministry of Defence, said discoveries at sea were "relatively rare due to their location" and "positive evidence" would be needed before it could be confirmed as a Short Stirling.
She added: "We would class this aircraft as a war grave. It is protected under the Protection of Military Remains Act 1986 which covers crashed military aircraft in both UK territorial and international waters."
The North Sea Link project - a joint effort between National Grid and Norway's Statnett - will see a 720km long cable run between Blyth, in Northumberland, and Norway, which will enable the organisations to trade electricity.