Petrels enticed to shore by birdsong PA system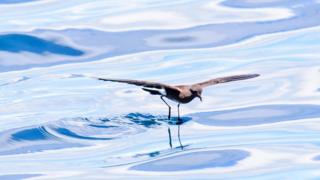 A breed of seabird is to be enticed to shore using birdsong played out of loudspeakers.
South Tyneside National Trust rangers will then catch, ring and record the storm petrels before releasing them.
They will be lured during the night as predation by gulls usually discourages them from coming to land in the day.
Ranger Dougie Holden said overcast weather was preferable as "the nets are more visible to the birds on a clear moonlit night".
"The information we gather through bird ringing and monitoring provides a small part of a much bigger picture when it comes to understanding how a species lives and thrives," he said.
The sound of a breeding colony will be played on The Leas - a large area of National Trust land along the coastal cliffs of South Shields - as soon as it gets dark, and the seabirds will be caught in 120ft (37m) of fine netting.
Ornithologists will use the information they gather to learn how many birds there are, where they go and how many survive.
Storm petrels live off the coast of South Africa during the winter and return to the UK in spring.
The birds are regularly monitored by the rangers in July and August.