Craig Eade wheelie bin death: Paul Watkins jailed for life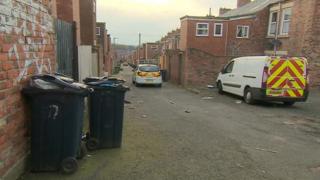 A murderer who killed a man before dumping his body in a wheelie bin has been jailed for life.
The remains of Craig Eade, who was 23, were discovered in a back lane in Northbourne Street, Gateshead, on 1 March.
The killing is believed to have happened between 26 and 28 February.
Paul Watkins, 36, of Northbourne Street, previously pleaded guilty to murder. He was given a minimum of 18 years at Newcastle Crown Court.
The trial heard that Mr Eade had leaning difficulties and mental health problems.
Watkins lured him to his Gateshead home with the offer of drugs, because he wanted to confront him about unsubstantiated rumours Mr Eade had sexually assaulted someone.
Northumbria Police said the claims were unsubstantiated and he was never investigated over any sexual offences prior to his death.
Watkins - who had 36 previous convictions for more than 100 crimes - hit him around the head with a hammer, choked him, and then stabbed him before disposing of his body in the bin.
By the time his body was discovered it is thought it had been inside the bin for 40 hours.
A statement from Mr Eade's mother was read out in court, in which she said her son was "tortured and disposed of like a piece of rubbish".
After sentencing, the family said: "He was a very happy lad with a big heart. We loved him and will always miss him.
"The one thing that gives us comfort is knowing that the person responsible is off the streets, we hope for good."
Northumbria Police said it was still investigating what happened before and after his death, and twelve other people remain on bail on suspicion of conspiracy to murder and assisting an offender.