Newcastle United's Rolando Aarons in court over bar brawl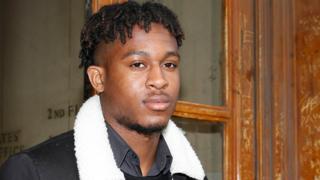 Newcastle United winger Rolando Aarons has appeared in court charged with violent disorder over a bar brawl in the city.
The 21-year-old and three others were allegedly involved in a disturbance in the VIP section of Livello in October.
Newcastle Magistrates' Court heard an amateur footballer, Wesley Erskine, was hurt during the incident.
Geoffrey Forrester, defending, said the allegations would be "seriously contested".
The court heard Mr Erskine, had been on a night out in Newcastle with his teammates when violence broke out.
Keith Laidlaw, prosecuting, said: "Mr Wesley Erskine suffered injuries when bottles were smashed and bottles where thrown around by a number of the defendants in this case."
Jamar Collins, 21, from Bristol, Jean Coly, 23, from Liverpool, and Joan Jacob, 45, from Newcastle, also appeared in court.
All three are charged with violent disorder and Coly an additional charge of wounding with intent.
All four were granted unconditional bail and will appear at Newcastle Crown Court on 3 May.
The Jamaica-born winger joined the club in 2012.