Greggs bakery heir claims he is 'victim of witch hunt'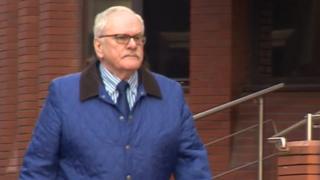 The heir of the Greggs bakery chain accused of sexually abusing boys over a 30-year period has told a court he is the victim of a "police witch hunt".
Colin Gregg, of Gosforth, Newcastle, says the claims against him had made his life "very difficult".
Leeds Crown Court has heard allegations Mr Gregg molested the boys in his home sauna and in his car.
The 75-year-old former head teacher and charity fundraiser denies indecent assault.
Paul Greaney QC, prosecuting, asked him: "Is it your position that each of the complainants is either mistaken or lying?"
Mr Gregg replied: "That's correct."
Asked if he could give a reason why they would tell "dreadful lies", he told the court he could not.
He added: "It is very difficult, but this has been going on for over four years. The words 'police witch hunt' come to mind.
"I did not abuse any of them."
Under cross-examination, Mr Gregg accepted none of the complainants had asked for compensation, despite his wealth.
He denies nine counts of indecent assault on boys aged between 10 and 14 while he was a teacher and head teacher, beginning in 1963.
The trial continues.