The alternative Trump phone line courtesy of Bernie Sanders' campaign team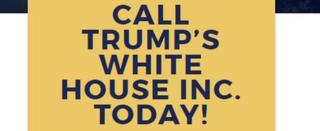 As the White House comments phone line stays closed it looks like Bernie Sanders' campaign team might have the solution.
Revolution Messaging, which ran the Democrat politician's campaign to run for President of the United States, has created a website to put you in touch with an actual person.
The site, whitehouseinc.org asks you for your number and then randomly connects you to one of Donald Trump's many global properties.
It means you could be contacted by any of his resorts, golf courses or hotels and suggests instead of making a reservation to discuss issues such as the wall, Obamacare or student loan debt.
At some point during the transition between the Obama and Trump administrations, the White House comments phone line, 202-456-1111, was shut down.
If you call the line today, you'll hear the following message directing you to comment via one of two alternate channels:
The comment line is currently closed, but your comment is important to the president, and we urge you to send us a message at whitehouse.gov/comment or send us a message through Facebook Messenger.
But trying to find the White house on Facebook messenger is tricky too.
The recording doesn't say which of the government's official Facebook accounts callers should visit in order to access Messenger, but neither the White House Facebook page nor President Trump or Vice President Pence's Facebook pages currently appears to have Facebook Messenger enabled.
Step forward Bernie Sanders' campaign team.
They originally created whitehouseinc.org about a year ago to "push Trump to divest from his business while in office," but it's now been reconfigured to provide a way to contact one of the "White House satellite locations" (ie. any of President Trump's properties).
The President has said he is handing over his business empire to his sons, Donald Jr and Eric.
He recently told a news conference he had formally given "complete and total" control to them in a bid to avoid conflicts of interest.
But the Office of Government Ethics said Mr Trump's plan didn't "meet the standards" of former presidents.
Find us on Instagram at BBCNewsbeat and follow us on Snapchat, search for bbc_newsbeat