Arbeia Roman Fort development boosted by £150,000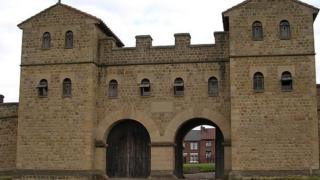 A fort - which was home to a Roman garrison for more than 300 years - is to undergo an £150,000 makeover.
The Arbeia Roman Fort and Museum in South Shields heritage site received the money from the DCMS/Wolfson Museum and Galleries Improvement Fund.
The grant will be spent improving displays and disabled access at the site, a spokesman for the museum said.
The fort was built in AD160 as a garrison and soon became the supply base for 17 forts along Hadrian's Wall.
In 1986, the West Gate of the fort was reconstructed to give visitors an impression of the size and scale of Roman military architecture.
Last year the fort attracted 33,000 visitors.
Iain Malcolm, leader of South Tyneside Council, said: "Arbeia is already a key tourist attraction as well as being a much-loved cultural and educational venue for local residents and the wider region, providing a fascinating insight into the borough's history."