New appeal 25 years after Charles Trueman's 'hit-and-run' death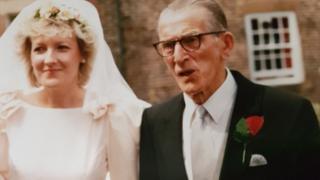 The family of an 83-year-old World War Two veteran killed in a hit-and-run 25 years ago have made a fresh appeal to help solve the crime.
Charles Trueman died after being hit by a car in Hexham, Northumberland, as he walked home from visiting his daughter's grave.
The driver of the vehicle fled the scene and the retired gardener died of head injuries.
It is believed Mr Trueman was struck just before 17:00 on 31 August 1991.
'Not to blame'
Police believe a man who later phoned Hexham Hospital to ask how Mr Trueman was may have been the person who accidentally knocked him down.
A blue Metro car and dark saloon-style car were seen in the area at the time but the drivers never came forward.
Mr Trueman's widow Rosina died 10 years later, but daughter Elaine O'Neil and her five siblings have made a new appeal for information.
'Take responsibility'
Ms O'Neil, 56, said: "This horrendous accident left our family devastated.
"We would be grateful for any information that could help us understand the course of events on that fateful day - this is not about finding someone to blame."
PC Derek Longstaff, of Northumbria Police, said: "There is not much to go on and we know it will be difficult to be able to trace those involved that day, but we will fully investigate any new leads."
He added that the man who rang the hospital may have been the driver who struck Mr Trueman, who then panicked and fled.
"It is now time for whoever was driving to take responsibility once and for all", he said.