Coxhoe family home trashed by vandals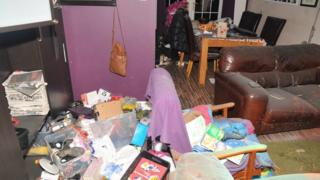 Intruders trashed a house and poured bleach into a kettle during a break-in in County Durham.
A couple and their three children who live in the house in Petterson Dale, Coxhoe, returned from a day out to find their home had been vandalised.
Paint was thrown around the house and cleaning products were poured over the walls and furniture, police said.
"In 20 years of policing I have never seen anything like this," said Det Con Nigel Dowd.
Police do not believe burglary was the motive for Tuesday's break-in and cannot explain why the family was targeted.
The couple, who do not wish to be identified, said: "We just do not understand why anyone would go to such lengths to vandalise our family home.
"How do you begin to explain this to our children?"