Amber Cliff, 25, killed by cervical cancer 'asked for tests'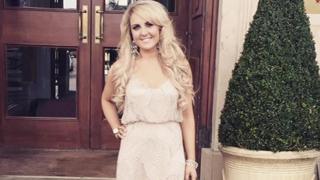 A woman killed by cervical cancer at the age of 25 had repeatedly asked for tests to diagnose the disease, her brother has said.
Amber Cliff sought smears when she was 21 because of worrying bleeding and abdominal pains but was told she was too young.
Her brother Josh said she finally paid for a private test. She died on Sunday.
Health officials said tests on women under 25 were often unreliable and could lead to unnecessary procedures.
Mr Cliff has now collected more than 35,000 signatures in an online petition urging the NHS to make smears available for anyone who asks.
He said: "We had a really nice Christmas and everyone was so happy. Amber was laughing and making jokes - then two weeks later she passed away.
"You can sit and grieve or do something about it.
"The problem is there are no guidelines - every GP seems to be different - we've had some say they would have given her a smear because of her symptoms.
"We'd like there to be a guideline right across the board, regardless of age, that women with certain symptoms can have a test."
Ms Cliff, a business graduate, underwent chemotherapy and radiotherapy but the disease spread to her lungs and throat.
A spokesman for Sunderland Clinical Commissioning Group, which oversees GPs in the area, said: "We are very sorry to hear about the loss of Amber and our thoughts are with her family and friends.
"We encourage women over the age of 25 to attend for their regular cervical screening test and we would always advise women of any age to seek advice from their GP or sexual health clinic if they experience symptoms like abdominal pain or unexpected bleeding."
A spokesperson for Public Health England added: "The routine cervical screening programme is for women who, at the time of taking the test, are not known to have any cervical cancer related symptoms.
"Changes in the bodies of women aged under 25 mean that routine screening can often produce false test results, which can in turn lead to procedures which do them more harm than good.
"It would be inappropriate for us to comment further where the full medical history is not known."