Northumberland tied-up van man 'no memory' of events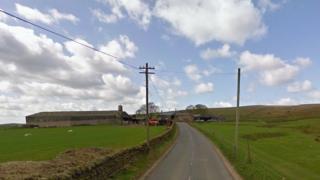 A man found tied up in the back of a van claims he has no recollection of how it happened.
The 29-year-old was discovered in a Mercedes Vito parked near Low Leam Farm in West Woodburn, Northumberland, on Monday afternoon.
He was tied at the wrists and ankles and apparently unable to recall anything after 12:30 GMT on New Year's Day.
Northumbria Police described it as a "highly unusual case".
The purple vehicle, which was not damaged and had not been in a collision, had been spotted travelling northbound on the A1 at 06:15 GMT on Monday morning.
It was then seen parked near the farm at about 07:30 GMT.
The force is appealing for witnesses.