Blyth Tall Ships regatta 'boosts economy by £13.5m'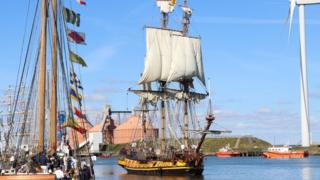 A Tall Ships regatta in Northumberland that attracted nearly 500,000 people boosted the economy by £13.5m, the local council has said.
About 30 ships and 300 amateur sailors from 10 countries appeared at the Port of Blyth on the August bank holiday.
It was the first time Blyth had hosted the event, which was in its 60th year.
Northumberland County councillor Val Tyler, said the "magnificent" four-day event would be a "lasting memory" for those who saw the ships.
The council said more than 1,000 staff and volunteers worked during the four days with nearly all accommodation in Northumberland sold out over the weekend.