Newcastle gang attack man with hatchets, bars and ammonia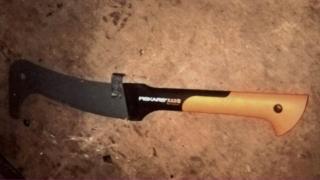 Eleven people have been arrested after a man was attacked with hatchets, bats, metal bars, knives and ammonia.
The assault happened in Walker, Newcastle, at about 16:20 GMT on 8 December, police said.
A group of 12 masked men in a white van attacked a man standing outside the Fosse Hotel pub on the Fossway.
He was taken to hospital with stab wounds and a fractured skull. A woman bystander was squirted with ammonia and needed hospital treatment.
Northumbria Police said officers had been "working around the clock" to identify suspects.
Crimestoppers was offering a cash reward of £2,000 for anonymous information that led to a conviction, the force said.