Alan Shearer honoured for charity work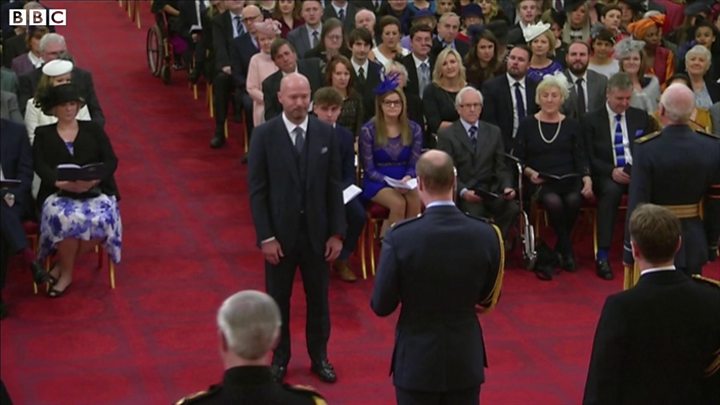 Former England and Newcastle United striker Alan Shearer has been honoured for his charity work.
The Premier League's all-time top scorer was made a CBE by FA president the Duke of Cambridge at Buckingham Palace.
Shearer launched the Alan Shearer Foundation in 2012 to provide support for disabled people.
The 46-year-old, now a television pundit on the BBC's Match of the Day, said he was "honoured and delighted".
The foundation aims to raise £250,000 a year to provide free sensory and leisure activities and respite breaks for profoundly disabled children and adults at a centre in Newcastle.
'Huge surprise'
The footballer, who scored 30 goals in 63 appearances for England and captained the side 34 times, was named in the Queen's Birthday Honours in June for his charitable services to the community in his native North East.
After the ceremony Shearer, who is an ambassador for the NSPCC, commended the bravery of footballers who have spoken out about historical sex abuse.
He said he was "saddened" to hear of further allegations as the scandal continues to engulf the sport.
He said: "We feel very sorry for what's happened to the guys and commend their bravery for coming forward, which hopefully will help others come forward as well.
"It hasn't been a great period for football - but we have to commend the guys' bravery."
Of his CBE, he said: "This has been a huge surprise. It reflects a lot of hard work from a lot of people.
"Footballers often get criticised these days for not giving enough back. I had my testimonial in 2006 and I used that money to set up my foundation and it has gone on from strength to strength.
"I was determined not just to hand the money over but to take an active part in it and help run it."
Mr Shearer, who has a road in Blackburn named after him in honour of his key role in helping Blackburn Rovers win the Premier League in 1995, said he was pleased that Gareth Southgate had been appointed as England boss.
He said: "I hope he can do well and he deserves it, because he is hard-working, honest and dedicated."