Sunderland Empire Theatre's Terpsichore statue restored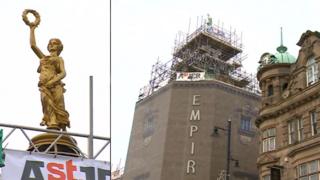 A statue depicting the muse of dancing and choral music which was toppled by high winds has been returned to its home atop a town's theatre.
The metal figure of Terpsichore stood on the dome of Sunderland Empire theatre until January last year.
It dangled from its 90ft (27m) high base for four days before it was removed.
After almost two years on the ground, she was lifted back into place by a crane earlier.
Manager, Ben Phillips, said: "For this city, she's part of the skyline... I think the people have missed her."