Lee Irving killing: James Wheatley guilty of murder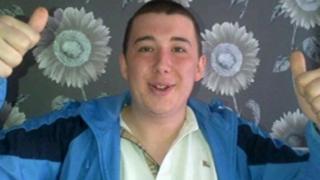 A vulnerable man with learning difficulties was beaten for 10 days in a house and left to die by a so-called friend, a jury has found.
Lee Irving, 24, was found dead after being dumped on a footpath in Fawdon, Newcastle, with 27 rib fractures and a broken nose and jaw in 2015.
James Wheatley, 29, of Studdon Walk, Newcastle was found guilty of murder at Newcastle Crown Court.
Barry Imray, 35, of no fixed abode was cleared of murder and manslaughter.
The pair had previously admitted perverting the course of justice and were also found guilty of causing or allowing Mr Irving's death.
Wheatley's girlfriend, Nicole Lawrence, 22, and his mother Julie Mills, 51, who lived in the same house, were found guilty of causing or allowing Mr Irving's death and perverting the course of justice.
All four have been remanded in custody and will be sentenced on Friday by Mr Justice Soole.
The cruel and repeated attacks took place in a house in Kenton in Newcastle where all of the group lived.
In June 2015, Mr Irving was punched and kicked by Wheatley before Imray used a pushchair to dump the body half a mile from the house.
Afterwards, Wheatley sent a text which read: "Smashed Lee all over, should see his face. My God."
He later called 999 saying he had found a body.
Lawrence meanwhile searched for information about brain haemorrhages in the hours before Mr Irving's body was found but did not seek help.
Mills, who also did not seek help, sent messages which said: "You want to see Lee, it's like a bloodbath. He's like an elephant man."
She also said: "Hoy him on the floor, that's where the dog needs to be."
In Court
By Alison Freeman, BBC Look North reporter
There were gasps of relief from family and friends of Lee Irving when they heard the verdicts.
His parents were among those who had listened to graphic evidence during the eight week trial which detailed the horrific injuries.
The court had heard how the 24-year-old hated being seen as "different" due to his profound learning disabilities.
As a result, he became vulnerable to exploitation and bullying by those he thought were his friends - like Wheatley.
The court heard that when Wheatley punched and kicked Lee, he did not try to defend himself.
There were cries of "yes" and "get in" from Mr Irving's family members, while Wheatley scowled and looked furious.
Det Ch Insp Andy Fairlamb said: "This has been a truly awful case and to watch the defendants show such little respect and remorse for Lee has been sickening.
"All Lee ever wanted was friendship.
"Support should have come from people he was living with - the defendants.
"They abused that position, failed to give him any support, assaulted him and, importantly, failed to give him medical attention.
"If they had got him medical attention he would be with us now."