Magician Alfred Hill's prop recovered from River Wear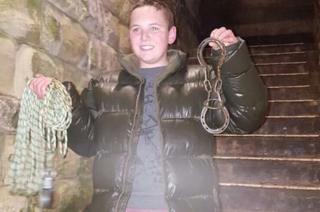 A street magician's treasured prop has been recovered from the River Wear by well-wishers.
Alfred Hill, 73, was performing on Durham's Framwellgate Bridge when a drunken man took his horseshoe puzzle and hurled it into the water.
On hearing of his plight, Jonathan Lambert, his father Michael and friend Robert Chappell trawled the river using a powerful magnet.
The puzzle, thrown into the water on 1 October, was recovered on Sunday.
It was handed over to police before it was returned to Mr Hill.
Jonathan, Michael and Robert travelled from Esh Winning with a rope and a magnet to search for the puzzle from the river bank.
Following their success, Jonathan's mother Catherine said: "Their faces lit up when they found it.
"They felt so happy to make Alf the magician happy."
Mr Hill, who wears a special balloon hat, had owned the puzzle for 30 years and described it as "very special".
He said: "I'm absolutely thrilled to have it back - and it still works."