Magician Alfred Hill distraught after prop stolen by drunk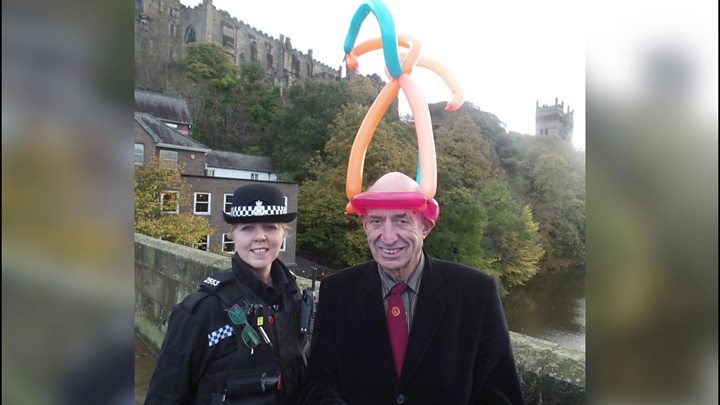 A street magician was left distraught after a drunken man threw one of his treasured props into the River Wear.
Alfred Hill, 73, who wears a special balloon hat, was performing on Framwelgate Bridge, Durham City, when he was approached by revellers.
One man asked if he could look at his horseshoe puzzle, but then swore at Mr Hill and hurled it into the river.
Mr Hill said some of the man's friends came back later and gave him £50 after having a whip-round.
Durham Police are investigating the incident and have released CCTV images.
'Burst into tears'
Former postman Mr Hill was targeted at 14:14 GMT on 1 October.
The puzzle, which he had owned for 30 years, involves trying remove a steel ring from a chain between two horseshoes without breaking the link.
"It was very special - I paid £50 for it at a Blackpool Magic Convention - and I'm well known for using it. While I'm making balloon animals I hand it to people to try and solve," he said.
"This man swore at me and threw it in the water and I burst into tears because I didn't know if I could get another one.
"I was very upset and five minutes later two of his friends came back and apologised for him saying it was his birthday and he was drunk. They gave me £50."
PC Jayne Marshall, of Durham Police, said the man was thought to be in his 30s, and smartly dressed in a blazer.
She has also arranged for divers from Northumbria Police's marine unit to carry out a training exercise in the river to see if they can find the horseshoes puzzle.
She said: "It is a heavy item so I am hoping it has just sunk and gone straight down where it was thrown in.