Halloween 'Scream' mask robbers fought off at undertakers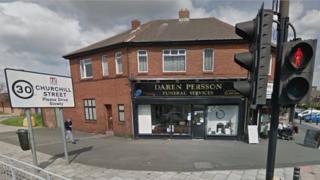 A female worker at an undertakers fought off two men wearing Halloween masks when they attacked her during an attempted robbery.
They demanded money from the woman at Daren Persson Funeral Services in Wallsend on Monday.
When she refused, one of the men punched her in the face. She fought back, kicking one of them and they fled empty-handed.
The men are described as in their early 20s and wearing "Scream"-style masks.