'Leaking' Lindisfarne Castle closes for repairs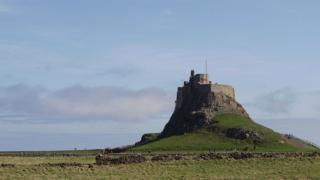 A 16th Century castle beset by leaks has shut to the public for a £3m series of repairs due to last 18 months.
Lindisfarne Castle was built in 1550 on an headland on Holy Island, off the Northumberland coast, and is now owned by the National Trust.
The trust said centuries of exposure to the elements had taken their toll and large-scale repairs were now needed.
Experts will restore the stonework, painting and windows, and address the issue of damp.
Lindisfarne Castle will be closed to the public until April 2018 but the shop, garden and surrounding site will remain open as normal.
A National Trust spokesman said closure would be the quickest and most effective way to get the work done.
He said: "We had hoped to have the castle open to visitors during the project works, but as we started undertaking the trials it became clear that the amount of interruption and intervention by contractors would not be compatible with visitors in such a small confined space.
"We considered a number of partial opening models, but each we felt would only prolong the work beyond what is reasonable. "