Holy Island causeway rescue prompts warning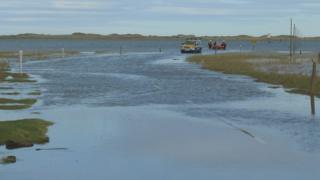 Lifeboat crews have again warned drivers to check safe crossing times on a tidal causeway in Northumberland.
Three people had to be rescued from a car that was swamped by the tide on the Holy Island causeway on Saturday.
They had attempted to drive across it two hours after it was deemed "safe".
Ian Clayton, from Seahouses RNLI, said: "It is disappointing that after all that has been done to promote the safe use of the causeway these incidents are still occurring."
In a bid to cut the number of strandings, Northumberland County Council installed warning signs in 2012.
Mr Clayton said: "Sadly, if visitors to the area see fit to ignore the warning signs, it's difficult to know how to address that."