South Tyneside NHS Trust warned over at-risk children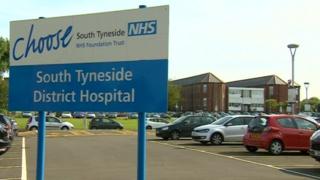 Hospital bosses on South Tyneside have been criticised for failing to properly monitor "at risk" children who used accident and emergency services.
Inspectors said staff at South Tyneside District Hospital in South Shields did not properly record data on youngsters at risk of domestic abuse or self-harm.
The Care Quality Commission (CQC) has ordered urgent improvements.
South Tyneside Foundation Trust said it accepted the findings and was working to improve its safeguarding systems.
CQC inspectors found failings in procedures meant to safeguard vulnerable children during two visits in December 2015 and July this year.
'Limited oversight'
Prof Sir Mike Richards, chief inspector of hospitals, said: "We were worried about the trust's ability to safeguard children and young people following a joint targeted area inspection earlier this year. I am disappointed that we saw little improvement in this area and have told the trust they have work to do.
"Although staff understood their responsibilities for safeguarding children and young people, there were no effective systems or processes in place to support them in identifying and protecting those that might be at risk.
"We found limitations within the patient recording system in the emergency department, which meant there was a lack of information available to staff, and there was limited oversight of safeguarding at management level.
"These are areas which the trust must address to ensure that children and young people aren't put at risk."
Dr Bob Brown, the trust's executive director for nursing and quality, said: "We fully accept the findings outlined in the report and the need for improvements to be quickly addressed.
"Immediately following their inspection in July, we drew up an action plan, which we are monitoring weekly, and we know that this has gone some considerable way to resolving issues of concern.
"Safeguarding children is one of our major responsibilities and we are very disappointed that we did not meet the exceptional standards we set ourselves in this regard."