'Lotto rapist' Iorworth Hoare guilty of resisting arrest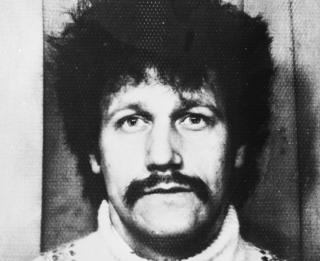 A convicted rapist who won £7m on the lottery refused to co-operate with police because he was a "multi-millionaire", a court has heard.
Iorworth Hoare, 64, told a court officers who came to question him about a flashing allegation were jealous of his lifestyle.
During his arrest he told police: "I'm a multi-millionaire, I'm not going anywhere," magistrates were told.
Hoare was found guilty of resisting arrest and jailed for a day.
He was also ordered to pay £650 costs. The flashing charge was later dropped.
'Know how to fight'
When officers came to arrest Hoare, now known as Edward Thomas, he was on licence for sex offences.
His demeanour was "very aggressive", South East Northumberland Magistrates' Court heard.
He also "clenched his right fist and was extremely tense" when handcuffed, police said.
There was a scuffle and he was forced down onto a sofa.
Hoare told the court "the police were jealous, I have a very good lifestyle".
He also said that if he had wanted to fight then the outcome would have been different.
"I have been in prison a long time, I know how to fight. I would know what to go for first."
Hoare was jailed several times for a string of sex attacks, including rape, two attempted rapes and three indecent assaults, during the 1970s and 1980s.
In 1989 he was convicted of attempted rape and jailed for life but won £7.2m on the Lottery in 2004 while on day release from open prison.
He was freed from jail in 2005 but remained on life licence.