Former Bede's World museum reopens as Jarrow Hall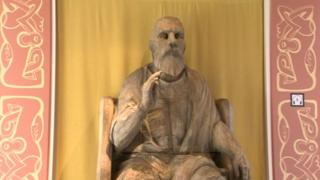 A South Tyneside museum about the Venerable Bede which closed earlier this year has reopened under new ownership.
Bede's World - dedicated to the saint and scholar - shut in February, with trustees blaming government cuts.
The site reopened on Sunday as Jarrow Hall and will be run by Groundwork South Tyneside and Newcastle.
The charity has pledged to retain its focus on Bede, but has added more interactive attractions.
The site also features a recreation of an Anglo Saxon farm and village..
Andrew Watts, the charity's executive director, said: "The main difference is around some of the activities for families and our educational services.
"We still want to keep the Bede museum and that is really important to us that we retain the historical element.
"We're confident that can embed Jarrow Hall within the workings of Groundwork South Tyneside and Newcastle and avoid the problems that the previous trust had to face."
Bede lived from 672 AD to 735 AD and is considered the father of English history.
He lived in the twin monasteries of Wearmouth and Jarrow, where he wrote and translated dozens of books on theology, history, nature, astronomy and poetry.
His most famous work remains The Ecclesiastical History of the English People, which was the first work of history to use the AD system of dating.