Catlin Ruddy death: Girl died after falling from Cullercoats pier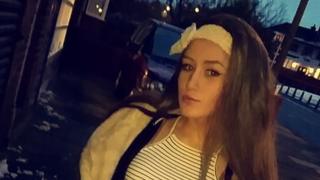 A 15-year-old girl died after slipping off a Northumberland pier into a "chilly North Sea", an inquest heard.
Caitlin Ruddy was with friends on the north pier at Cullercoats Bay on 16 January when she lost her footing.
The inquest, at North Shields, heard she spent 30 minutes in the water before being found by a dog walker. She died later in hospital.
Northumberland coroner Eric Armstrong found the death was accidental as a result of immersion in water.
The inquest was told that as an RNLI crew, stationed yards from the pier, searched for Caitlin. A dog walker found her in the water near the shore and started first aid.
However, by then she had spent about 30 minutes in the sea with an air temperature around freezing.
Caitlin was found about 300ft (91m) away from the pier on the other side of Cullercoats Bay, after having been swept along by heavy seas and a high tide.
Efforts to save her by hospital staff in Cramlington were in vain, the inquest heard.
After the hearing, Caitlin's mother Sabrina said: "Caitlin was a very happy and very talented young woman in and out of school and college.
"Caitlin made a lot of friends in her short life, her death has had a massive impact on their lives.
"Caitlin would put a smile on anyone's face when they were down. She never let anything get in her way and I just hope people take Caitlin's tragic accident and learn by it, as water is dangerous and can sweep you away like it did with her."
After she died, family members visited the beach and wrote "RIP Caitlin" in the sand.