Toon Whip cream delivery firm owners deny illegal gas sales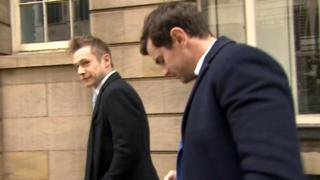 The owners of a "whipped cream delivery service" have denied selling gas canisters allegedly used as a recreational drug.
Jonathan Lawrence, 30, of West Mews, Stamford and David Jenkins, 29, of Jesmond Gardens, Newcastle, deny the unauthorised sale of nitrous oxide with their firm, Toon Whip.
They were arrested after the BBC investigated the Newcastle-based firm.
The pair appeared before Newcastle Magistrates' Court.
They are due to return to the same court on 5 January.
Mr Lawrence and Mr Jenkins were charged under the General Product Safety Regulations 2005, on the grounds they sold allegedly unsafe products.
Toon Whip is part of Out the Kitchen Limited, based on Starbeck Avenue, a catering business run by the two directors. The company has denied the same charge.