John Nimmo accused of sending mosque bomb-threat emails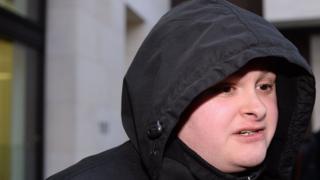 A self-proclaimed "holy crusader" sent emails to an anti-hate crime organisation threatening to blow up a mosque, a court heard.
John Nimmo, 28, from South Shields, is accused of sending the messages to Faith Matters, a counter extremism non-profit group .
Sunderland magistrates heard the emails also included the phrase "death will come to all Muslims".
Mr Nimmo made no plea and the case was adjourned.
Lee Poppett, prosecuting, told the brief hearing the emails allegedly contained references to Mr Nimmo being a "holy crusader" and said "death will come to all Muslims".
The court was told the messages were sent through the group's website, in a section that allowed users to report incidents of hate crime.
Appearing by video link, Mr Nimmo said he was entering no plea to four charges of sending an email with intent to cause distress.
Chairman of the bench Jan Leech said the court would decline jurisdiction and the case would be sent to Newcastle Crown Court next month.
The patrons of Faith Matters, which was established in 2006, include former Lib Dem MP Sir Simon Hughes and human rights and equality campaigner Peter Tatchell.