Haydon Bridge fire station closure 'detrimental'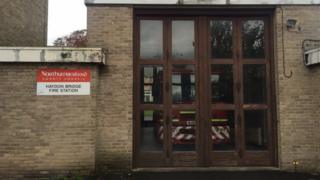 The "reluctant" closure of a fire station in Northumberland has been branded as "detrimental" by the union.
Northumberland County Council has now shut Hayden Bridge station as part of a £500,000 savings plan.
It said the move, which will save £113,500, followed a detailed analysis of risk, and cover would be provided from Hexham, seven miles away.
However, the Fire Brigades Union (FBU) said it was disappoint ed at the closure of a "vital asset".
'Valuable seconds'
Council deputy leader Dave Ledger said the decision had been made "reluctantly" and was the result of government budget cuts.
"We carried out detailed analysis and used the professional expertise of our firefighters to ensure that the required cuts were made in a way which has the least impact on our communities," he said
"We fully understand the concerns of some residents but want to reassure them they will still be able to access emergency services should they need them."
Guy Tiffin, secretary for the FBU in Northumberland, said: "I think it's going to be very detrimental for the community.
"It's a vital asset, not just for Haydon Bridge but also for surrounding villages.
"It's going to add valuable seconds to emergency calls in Tynedale."