Teaching assistants rally over pay cut in Durham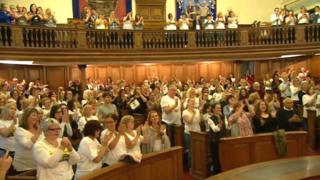 Teaching assistants have held a protest rally against a proposed pay cut.
It follows Durham County Council's plan to pay its 2,700 teaching assistants only during term time rather than throughout the the year.
The staff say it makes them feel "undervalued" with some saying they will see a wage cut of 20%.
The council said its "final" improved offer of two years' compensation for accepting the change would come in from next April.
The new offer, which saw one year of compensation doubled to two, would effectively delay any changes to wages until 2019.
If the new offer is not accepted staff will be dismissed on 3 October and re-engaged on new contracts in January.
Durham County Council said it had to make the change to bring the teaching assistants into line with other staff who are paid in a similar way.
Organisers said about 250 people attended the rally.
Unions will ballot members on the offer, with the result expected no later than 29 September.
What if the "final offer" is rejected? By Fergus Hewison, BBC Newcastle political reporter
If the teaching assistants reject the offer they may vote to take strike action, which would disrupt classrooms and schools across County Durham.
Also the dismissal and re-engagement proposition will continue with notices of termination to be issued by 3 October. That will not happen if the new offer is accepted.
The teaching assistants are also considering a legal challenge to the changes.
Jane Brown from the council said: "We have revised and doubled our compensation offer and delayed the implementation of these changes to April 2017.
"We have a legal and moral responsibility to address this issue and will not benefit financially in any way - except to remove the risk of equal pay claims from other staff."