Denise Aubrey tribunal: Northumbria Police legal bill tops £570,000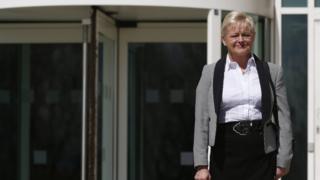 A police force spent more than half a million pounds defending itself against claims of unfair dismissal, harassment and discrimination.
Former Northumbria Police head of legal services Denise Aubrey, 54, was sacked for gross misconduct in 2014 and lost an employment tribunal case last month.
Following a Freedom of Information request, the force revealed it spent £570,000 on legal fees.
Ms Aubrey's team has confirmed it will appeal against the panel's decision.
The tribunal heard allegations of affairs between senior officers, a brawl at a barbecue, and a culture of bullying and sexism.
'Considerable sum'
In a statement, the force said: "This case involved a wide range of very serious and extremely damaging allegations against serving and retired members of Northumbria Police that were made very publicly.
"In the interests of public confidence it was entirely right that the allegations were robustly defended, as borne out by the emphatic rejection of them all by the tribunal.
"There is no doubt that this is a considerable sum of money, however, the alternative would have been to settle the claim which we rejected in its entirety, and that would have been fundamentally wrong."
Among her claims, Ms Aubrey alleged she was unfairly dismissed because bosses believed she "gossiped" about senior officers having affairs.
The tribunal heard former chief constable Mike Craik, who has since retired, was alleged to have been seeing Assistant Chief Constable Carolyn Peacock.
It was also claimed Ms Peacock's chief superintendent husband, Jim, punched Mr Craik at a barbecue over the alleged affair.
Mr Craik and the Peacocks, who are also no longer with the force, deny both the affair and the altercation at the barbecue ever took place.
In a decision given last month, Ms Aubrey's case was dismissed and it was ruled she was sacked fairly.