Consett soldier's life-saving prayer book donated to DLI collection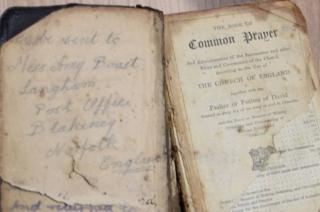 A soldier's prayer book which helped save his life when he was struck by a bayonet has been donated to a collection of war memorabilia.
Durham Light Infantryman Tommy Crawford was attacked in a German trench when his rifle jammed during World War One's Battle of the Somme.
However, the blade hit the book and a cigarette case in his top pocket.
His son, Brian, has now handed it to the Durham Light Infantry (DLI) Collection in Spennymoor.
Cpl Crawford, of Consett, County Durham, was 18 when he joined the Army and served in the 15th Battalion of the regiment.
The book was lost in mud at the Somme but was remarkably found and returned home to his girlfriend.
With a bayonet hole through it, the book contains handwritten accounts of the war, poems, medals and a King's shilling given to Cpl Crawford on joining the Army.
Cpl Crawford's son said: "He was very lucky to survive the war as he charged into a German trench, his rifle jammed and a young German bayoneted him in the chest.
"Fortunately, the bayonet entered his silver cigarette box and then went half way through a prayer book that he carried in the same pocket.
"Incredibly, when my father fell injured, he lost his prayer book, but somehow it was found and returned to his sweetheart Amy, who he later married.
"It's amazing to think there are over 70,000 names of the missing on the Thiepval memorial, but his little prayer book made its way home."
Cpl Crawford died in 1980, aged 84, after marrying twice and having four sons.
The book will be available to view at County Durham Council's Sevenhills, in Spennymoor, from 11 October.