Great North Snowdogs damaged after unleashing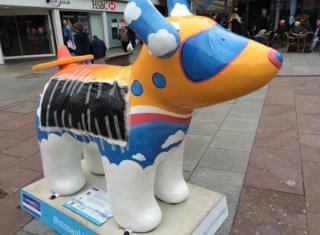 A number of colourful snow dog sculptures have been damaged after being unleashed across Tyne and Wear.
A pack of 61 large and 97 smaller dogs, based on the animated film The Snowman and the Snowdog, make up a free public art trail.
They will be auctioned after the trail closes on 29 November to raise money for the St Oswald's Hospice charity.
Spokeswoman Jane Hogan said several had been taken to the "vets" with substantial damage.
"The vast majority of the damage is people being too enthusiastic and climbing on them," Ms Hogan said.
"Although they are pretty robust and they are varnished, they will only withstand a certain amount of attention, but we do ask people not to climb on them."