South Shields liver-failure dad Luke Wilkinson to fly home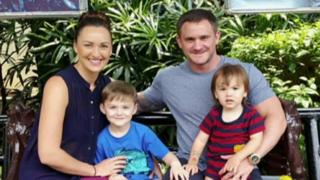 A father of two in need of an urgent liver transplant is to be flown back to the UK from Singapore.
Luke Wilkinson is in hospital with acute liver failure believed to be caused by taking medication to treat tropical infections.
Mr Wilkinson, from South Shields, South Tyneside, works in South-East Asia.
His flight is being covered by insurers while £17,000 raised through an online appeal will pay for his wife and sons to fly to the UK.
The 37-year-old is due to fly back to the UK on Saturday and will be taken to Newcastle's Freeman Hospital while a donor is found.
The family live in Malaysia and had been visiting Singapore on a short break when Mr Wilkinson's condition deteriorated rapidly on Sunday.
A fundraising appeal was set up as it was unclear whether insurers would meet the cost of his flight.
'Weight lifted'
It has now confirmed it will, according to Mr Wilkinson's family, and donations are no longer being accepted.
Once all medical and transport costs are paid, any surplus will be used to support liver-related research and family support services.
Friend Natalie Coates said: "It's like a massive weight was lifted.
"Luke is not out of the woods by any means. He needs to stay stable, but he's now on the transplant list.
"They've got a long journey ahead of them because they need to find a donor. Hearing Di so distraught and not being able to tell her everything is going to be OK is heartbreaking."
His brother-in-law, Christy Brennan, told BBC Newcastle: "The flight was the biggest burden. We're very grateful [the insurers are covering it].
"I can't wait for them to get home. Hopefully Luke will pull through."