Druridge Bay opencast mine plan to go to inquiry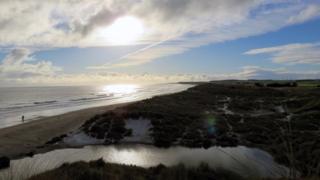 A planning inquiry will be held to determine if controversial proposals for an opencast mine near Druridge Bay will go ahead.
Plans to extract three million tonnes of coal, sandstone and fireclay from a site at Highthorn were approved by Northumberland County Council.
Opponents said the mine would ruin wildlife and tourism.
Developers the Banks Group said the government's decision to call in the plans was "frustrating".
Development relations coordinator Jeannie Kielty said it meant "the £120m investment in the North East economy is delayed, waiting for a public inquiry, so are the 100 new jobs, as well as the social, economic, environmental and ecological benefits that we plan to deliver".
"We are still absolutely committed to working Highthorn so long as we get through this public inquiry," she added.
Duncan Lawrence from the Save Druridge Group said he was "absolutely delighted".
"Government policy on call-in is very selective and therefore we're just over the moon that [secretary of state for communities and local government] Sajid Javid has decided to call in this application," he said.
In a letter to the council, Stephen Jewell writing on behalf of Mr Javid, said the inquiry would look at how the plan matches government guidelines on the use of fossil fuels and countryside development.
Guy Shrubsole from Friends of the Earth campaigner said the mine "would be hugely damaging".
"Hopefully this means that ministers have realised that digging up yet more coal is completely contradictory with the Paris climate deal, and that planning rules must be changed to leave fossil fuels in the ground," he said.
The date of the inquiry is yet to be set.