Task force 'cuts legal highs calls outs' in Newcastle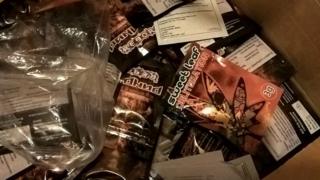 Incidents involving so-called "legal highs" in Newcastle have fallen since a task force was set up at the turn of the year, police figures show.
In January there were 192 reported incidents in the city, but by July the monthly figure was down to just 26.
Northumbria's police and crime commissioner (PCC) welcomed the figures as "pleasing", vowing to continue with high-profile raids and seizures.
The task force is made up of officers, health experts and city council staff.
Legal highs contain substances which mimic the effects of illegal drugs such as cocaine, cannabis and ecstasy and go by names such as Spice and Black Mamba.
Laws criminalising the production, distribution, sale and supply of the drugs - known as the Psychoactive Substances Act - came into effect at the end of May and brought penalties including lengthy jail terms.
'Top priority'
PCC Vera Baird, said: "It's pleasing to see a strong stance is being taken in Newcastle and through excellent partnership working with the council and others it's paying off.
"The work of the task force has been so successful so far that other police forces and agencies from around the country have been in touch looking to learn how the issue is being tackled here in Newcastle.
"Residents can rest assured this issue will remain a top priority for me and I will ensure our officers continue to get those selling these substances before the courts so we can prevent people from getting addicted to them and putting their lives at risk."
A city council spokesman added: "We are leading the way our co-ordinated approach to tackling the menace of lethal highs.
"For its part, the council has worked with the police to close down shops that have sold these poisons and shown their catastrophic health consequences to young people to help deter them from taking them."