Liam Hall dinghy death: Girlfriend describes horror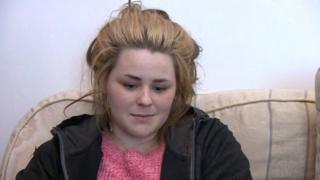 The girlfriend of a teenager who died in the sea off Sunderland says she "can still hear him shouting for help".
Liam Hall had tried to swim to shore when the dinghy they were in, along with two other friends, started taking in water on Tuesday afternoon.
The 17-year-old, from Southwick, got into difficulties and disappeared. He was found two hours later following a search operation but died in hospital.
Courtney Anne Richardson, 18, said Liam had not been a good swimmer.
Click here for more on this story and other news from across the North East.
The four friends had taken a trip on the dinghy from Roker Beach on a sunny day in calm seas, but it began drifting further out to sea and taking in water.
Miss Richardson said: "Liam wasn't that much of a good swimmer, but we didn't know that at the time.
"He swam about half way and then just stopped.
"All I can remember is just panicking, seeing Liam's head going under the water and not coming back up.
"It was horrible, I can still see it all the time. I can still hear him shouting for help."
The three others tried to help but were unable to get to him. They were eventually helped to safety and there was a major search operation to recover Liam.
He was recovered from the water and taken to Newcastle's Royal Victoria Infirmary but could not be saved.
Miss Richardson said: "It doesn't even feel like he's gone. Sometimes I hope he walks through the door.
"He was a really happy person, who loved to be out with his friends. He just laughed at everything."