Blyth Tall Ships regatta hit by waterlogged car park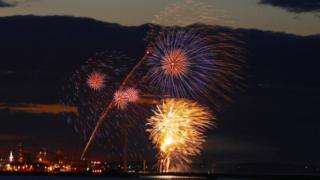 A Tall Ships regatta in Northumberland has been hit by bad weather which has forced the closure of one of the event's two main car parks.
More than 20 of some of the finest vessels in the world are on show at the Port of Blyth until Monday.
But organisers said heavy overnight rain had resulted in the closure of the southern park and ride facility, which is on grassland near Seaton Sluice.
Visitors have been redirected to a car park north of Blyth which remains open.
Up to 500,000 people are expected to visit the regatta, which has been jointly organised by Northumberland County Council.
A council spokeswoman said more than 30 shuttle busses had been laid on to cope with the additional pressure on the remaining car park.
She said: "The South car park for the Tall Ships event is closed today due to heavy rain, and all visitors must use the North car park.
"All park and ride highway signs will direct motorists to the North car park which is hard standing.
"All pre-purchased event parking tickets are valid for the North car park.
We would ask people to please follow signs for park and ride North (A189 exit at Cambois) where 36 shuttle buses are running to the regatta.
"The event is fully open with a fantastic line up of entertainment."
The South car park is expected to reopen on Monday.
The council believes the North East economy is likely to benefit by as much as £13m from the event.
The majority of the ships will set off on Monday to race to Gothenburg in Sweden after taking part in a parade of sail.