Durham reburial for Civil War Dunbar prisoner remains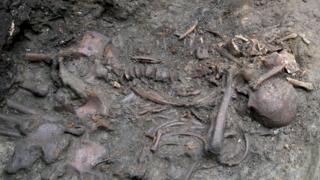 The remains of 17th Century Scottish prisoners of war found in a mass grave in Durham are to be buried in the city.
Between 17 and 28 skeletons were discovered during building work on Palace Green in 2013.
Archaeologists from Durham University established they were captives from the 1650 Battle of Dunbar who died while imprisoned in the cathedral and castle.
It has now been decided that after further study the bones will be reinterred at Elvet Hill Road cemetery.
They will be commemorated with a plaque, while the one installed in November 2011 will be updated so wording can reflect the fact that the final resting place of the soldiers is now known.
The decision follows consultation with interested parties and public meetings in Durham and Dunbar.
The Durham reburial conforms to standard legal conditions governing the exhumation of human remains, as set out by the Ministry of Justice, which usually requires reburial in the closest burial site in use.
'Morally appropriate'
As an estimated 1,700 prisoners from the battle died and were buried in Durham, and as there are believed to be more mass graves in the area, it was agreed that keeping the discovered remains as close as possible to their comrades would be morally appropriate.
Professor David Cowling, pro-vice-chancellor for arts and humanities at Durham University, said the decision was "complex".
"We were acutely aware of the strength and depth of interest amongst many about the fate of these soldiers, whilst at the same time recognising our ethical, moral and legal obligations.
"All options were explored fully by the university and in the end it was felt that the case for reburying the remains in Durham and also commemorating them here with a plaque was strongest."
Canon Rosalind Brown, from Durham Cathedral, said: "The hope is that interested parties will join us in planning a fitting and dignified reburial and commemoration for the soldiers.
"We will also be working closely with both the local church and churches in Scotland to plan this."